KAGE SNOW REMOVAL EQUIPMENT
KAGE Innovation offers snow and ice removal attachments and accessories ideal for the commercial snow industry. This all started with a skid steer attachment called the SnowFire – a snow pusher and snow blade 2-in-1 plowing system. KAGE snow removal products have proven to revolutionize the industry, resulting in development of more unique equipment designed to create a better way to remove snow and ice – or at least make the job easier for the professional snow fighter.
At KAGE Innovation, we don't just settle for the industry standards, we have made it our goal to revolutionize the way snow plowing and pushing is completed. Minimize the time it takes you to get through the nightly snow removal routine and maximize the amount of commercial and residential properties you can clear through with our highly advanced and durable snow removal products.
Get to the asphalt in one pass with our snow removal equipment. Our snow plow and pusher equipment is constructed with extreme durability and functionality. Are you sick of losing all that snow and having to go back around to clean it up? How about moving snow to one place, just to move it to the next? All of these common snow removal issues take both time and money, which is why we've solved these and many other problems with our quality equipment.
KAGE SnowFire 2-In-1 Snow Plow & Pusher System
Angle plow with or without the containment box
Stack snow higher without needing to dump
Maintain constant contact for better scraping through oscillation and float – even when angle plowing or on slopes
Plow closer to curbs without damage with spring-loaded trip edge
Plow 90 degree corners
Back drag with precision
The KAGE Innovation products allow you to be more efficient with added snow control, a simple design, easy function and they can all take a beating – which is what winter brings each and every year. Don't get hung up on a curbs or other obstacles, with the trip edge the worry of damages is greatly decreased. So you and your crew can focus on the task at hand, not nightly repairs.
These 2-in-1 snow removal systems are available for skid steers, tractors, front end loaders and telehandlers and are great for clearing at:
Condominiums
Apartments
Parking Lots
Parking Ramps
Driveways
Pathways
Airport Runways
Bank & Restaurant Drive Thrus
Sidewalks
SnowFire Blast Straight Pusher
KAGE's new SnowFire Blast is straight snow pusher. In other words, it does not angle. This is economical snow pusher with fixed sided panels that also includes many advanced features without the need for hydraulic hoses. Those features include:
Spring loaded floating plastic skids to reduce potential damage
Trip edge for better curb clearing and reduced damage
Floating quick attach for consistent down pressure
Oscillation for constant contact on side slopes
Bolt-on sides for easy maintenance
Compatibility with steel, poly, carbide or rubber standard highway punch cutting edge
Optional top-mounted back drag kit
Complete Line of Snow Removal Equipment
KAGE offers four different snow pusher options (three of which include the 2-in-1 system), snow plows for both the front and back of tractors, wheel loader (front end loader) plows and pushers and brine sprayers. It also offers accessories to improve the efficiency of both your machines and existing plows including skid steer snow tires, undercarriage mounts for tractors, laser guides for municipal plow trucks, rotor paddles for snow blowers, high visibility driveway markers (as well as snow stake installation tools) and cutting edges of various materials and styles that can be mounted on nearly any snow plow.
Away from the machines, KAGE's snow accessories include shovels as well as slings and assist handles for shovels.
Browse our extensive selection of innovative snow removal equipment designed to help you clear snow The Better Way!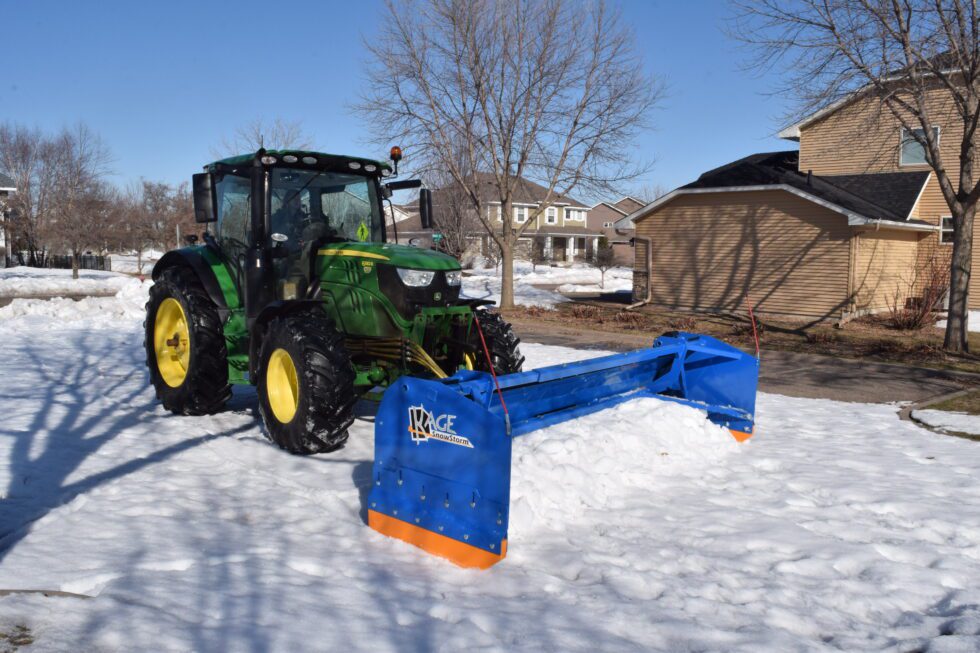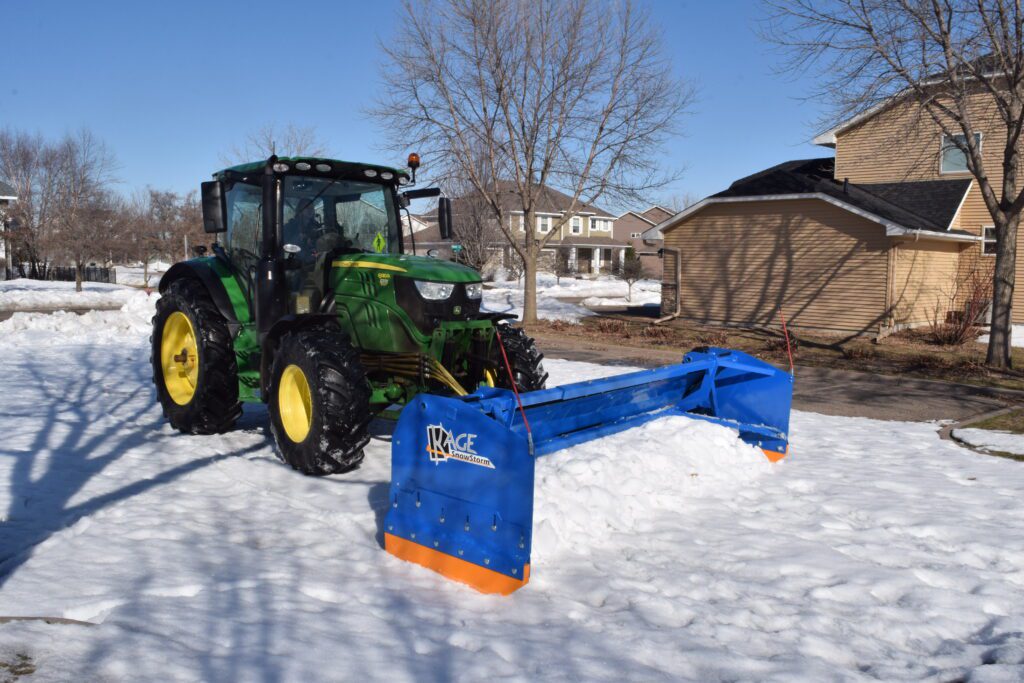 KAGE Innovation has multiple tractor snow plow options, whether you are looking for a snow blade, snow pusher or rear mounted three-point hitch snow plow wing. We even offer tractor undercarriage kits to use with our front mounted plows.
Compact Tractor Snow Plow & Pusher
When combined with a KAGE tractor mount, the SnowFire 2-in-1 snow plow and box system is a great tool for compact tractors up to 15,000 lbs. This system allows for:
35-degree angle plowing
easy stacking
12-degree oscillation
hydraulic clamp-on box attachment
70-degree trip edge curb plowing
tight-turn plowing
6-12 foot swaths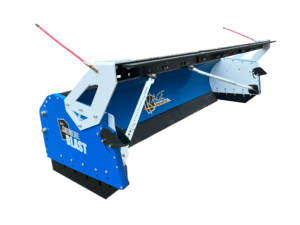 If angle plowing isn't a concern, the Snow Fire Blast snow pusher is another great option. With this pusher system you get all of the benefits of a 2-in-1 SnowFire minus the angle plowing option and the ability to remove the containment box. It also ads the following features:
floating plastic skids
floating quick attachment
optional top-mounted back drag kit
trip edge
universal highway punch cutting edge mount
optional poly cutting edge
optional sectional cutting edge in steel or carbide
Mid-Size Tractor Snow Plow & Pusher
For 15,000 to 30,000-lb. tractors, we recommend using the SnowStorm 2-in-1 snow plow and box system which features:
industry best 36-degree angle plowing
easy stacking
12 degrees of oscillation
hydraulic clamp-on containment box
90-degree trip edge
tight turning
10-14 foot plow widths
3 Point Rear Hitch Mounted Snow Plow
When you want that extra attack width for a tractor weighing at least 9500 lbs., you'll want to check out the rear mounted side wing plow called the ShadowBlade.  This revolutionary plow:
switches to either side of the tractor
folds for transport
counter-acts crab walk effect of side plowing
bench wings
pushes back curb and ditch snow banks
"breaks away" with obstacles and returns
allows for optional wing extensions
Undercarriage Mounts
KAGE offers tractor undercarriage mounts designed specifically for John Deere and Kubota Tractors that help the tractor move large quantities of snow without interfering with visibility or damaging your machine. These mounts are available for Cat II 3-point style and 2 pin style hitches.
Please contact KAGE Innovation with questions or concerns with any of our tractor snow plow options and accessories.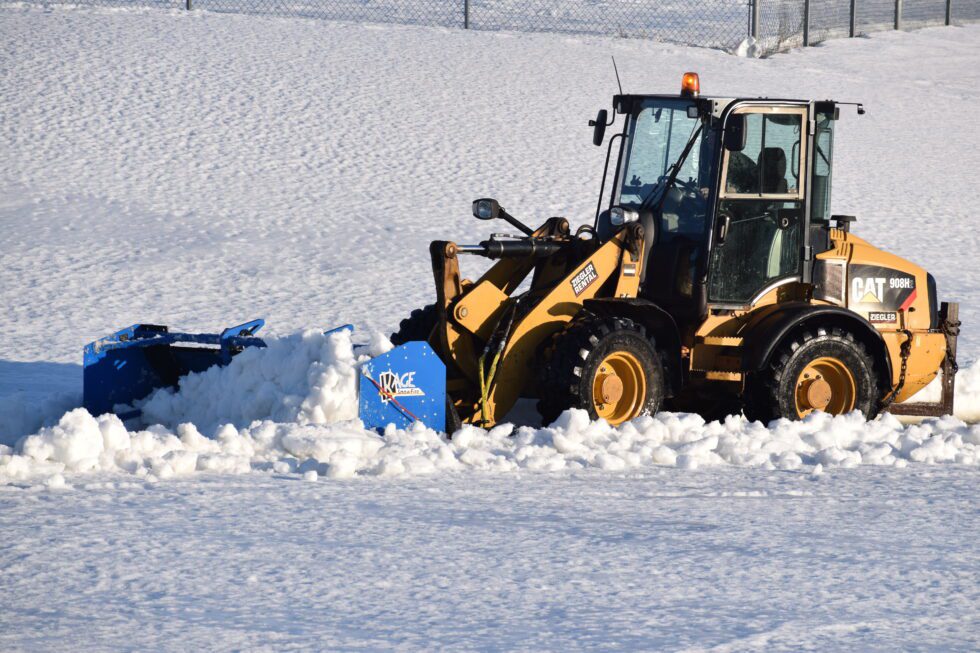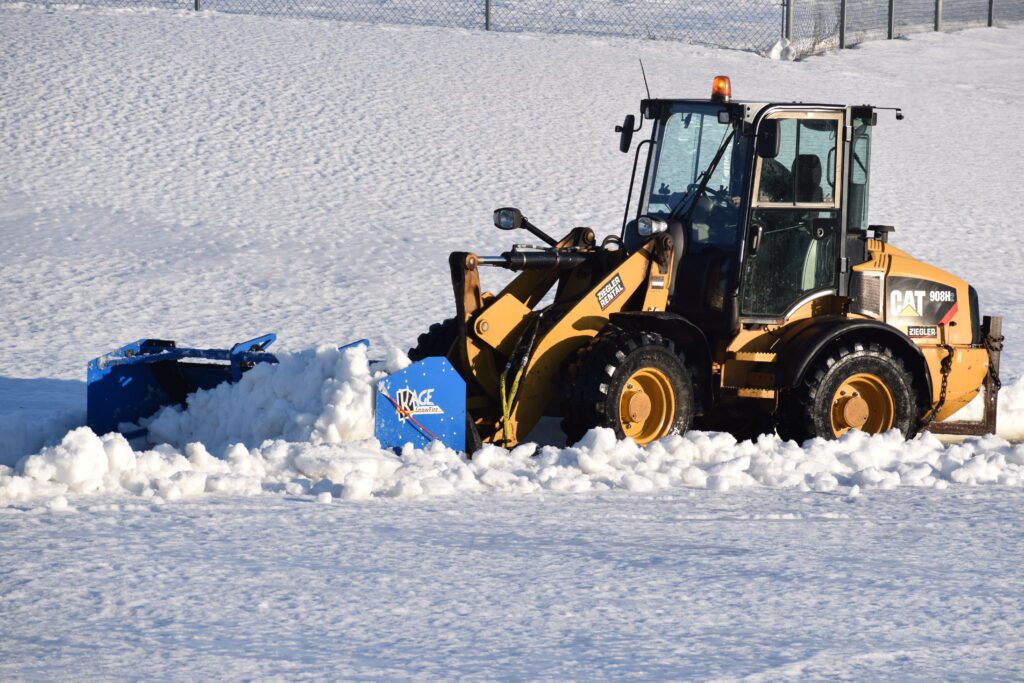 All of KAGE's snow pushers are are Made in the USA and compatible with front end loaders, including both the 2-in-1 systems and the straight pusher. It's simply a matter of choosing a front end loader snow plow to fit the size of your machine and the type of functions you wish to perform with your plow or pusher.
Compact Loader Plows
For Wheel Loaders weigh up to 15,000 pounds, the KAGE SnowFire snow blade and box system is an excellent solution. The SnowFire offers the following time saving and performance enhancing features.
Snow blade with camlock detachable containment box
65-degree attack angle
35-degree angle plowing
12-degree oscillation above the cutting edge
70-degree trip edge
Universal cutting edge mount
connect-under-pressure hydraulic hoses
3,000 psi hydraulic crossover relief valve
6-12 foot width options
tri-form box construction
32-inch tall moldboard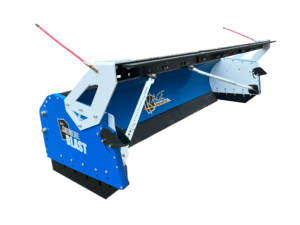 If angle plowing and back dragging aren't a primary concern, the SnowFire Blast straight snow pusher is also a great option. The SnowFire blast differs from traditional snow pushers in that it comes standard with a:
Trip edge
Steel cutting edge
Plastic floating skids
Floating quick attach
Oscillation above the cutting edge
Bolt together design
tri-form box moldboard support
Mid-size Front End Loader Plow
For front end loaders weighting between 15,000 and 30,000 pounds, the SnowStorm plow and box system is recommended. This mid-size payloader snow plow system comes standard with the following features:
snow blade and hydro-clamp detachable containment box
65-degree attack angle
industry best 36-degree angle plowing
12-degree oscillating above the cutting edge
90-degree dual trip edge
universal cutting edge mount
connect under pressure hydraulic hoses
2,500 psi crossover relief valve
10-14 foot width options
tri-form box moldboard construction
36-inch tall moldboard
Large Payloader Snow Plow
When it comes to big job where a 30,000 to 50,000-lb payloader is needed, it's time for a SnowDozer 2-in-1 snow plow and pusher system. The front end loader plow is equipped with:
snow blade and hydraulic locking pin detachable containment box
adjustable attack angle
34-degree angle plowing
12-degree oscillation
90-degree trip edge
Universal cutting edge mount
2,500 psi crossover relief
12-20 foot width options
48-inch tall moldboard
Please contact KAGE Innovation to inquire or order any of these front end loader snow plows and snow pushers at 844-314-KAGE.
KAGE Innovation, (KAGE) guarantees for a trial period of 15 days from delivery, to the original purchaser, that the product will perform as described in KAGE created marketing materials or your money back. Prior to awarding a return authorization, KAGE reserves the right to discuss proper setup and use of the product with the purchaser or operator to ensure the equipment is being used as intended; which may require photographs of setup and use. The return authorization will be awarded only after proper setup and use has been achieved and the product does not perform as described.
This money back guarantee reimburses 100% of the purchase & shipping costs. However, all return shipping and shipping arrangements are the responsibilities of the original purchaser.
After speaking with a KAGE customer service representative, that has approved the return; the original purchaser will be provided with a return authorization number. Once KAGE has received the product, at the address provided, the refund will be processed. In order for the return to be valid, the original purchaser must have the product in transit to KAGE within 14 days from the issue of the return authorization number.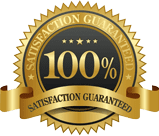 The amount of snowfall can seem limitless. Make sure you equip yourself with the same unending possibilities to move and remove it. KAGE Innovation's snow plow equipment permits long lasting function, stylish appearance, low maintenance and durable construction – all with universal mounts.
Stack snow to new heights. See your customers, employees and families happier than ever, and experience your business thriving like never before when counting on the superior performance of KAGE Innovation's snow removal products. Get home early or have time to make more money when it snows with the help of fast, efficient and convenient KAGE Innovation snow removal products.
Contact us today with any questions, concerns or requests at info@kageinnovation.com or 1-844-314-KAGE (5243)!