TESTIMONIALS
KAGE Innovation customers express their thoughts feelings and impressions of their KAGE Products in these videos and quotes. Customers represented include dealers, businesses, government entities. Watch, read and learn what people are saying about KAGE's snow, lawn and dirt products based on their real-life experiences.
Dirt Maintenance Testimonials
Lawn Maintenance Testimonials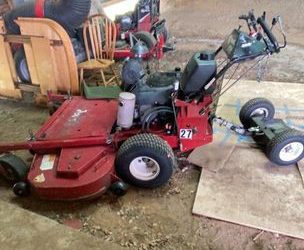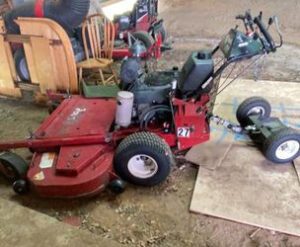 "I just bought a used Turf Tracer that came with an old Kage Wheel Kaddy, and I you can for sure tell it's been used, but it still works amazing and is the best sulky I've ever used. I cleaned it up a little bit, but it is a beast and so comfortable to ride on; and I just wanted to let you guys know that you make great products and will purchase a brand-new sulky when I get my next walk behind."
"I have used several brands of lawnmower sulkies over the years. They have all worn out after a few years of use. I purchased the Kage Wheel Kaddy because of the way it is constructed. I'm very happy with the quality and especially the ease of connecting and disconnecting with the quick release. It's also easier to back up while riding."
Snow Removal Testimonials
In late fall of 2008 we purchased an eight foot KAGE plow/pusher combination unit. It has performed almost flawlessly for us for the past two seasons, and required minimal service even this year to get it ready for snow. After acquiring some new condominiums for this winter, it was an easy decision to make that we needed another KAGE combination unit. During a few consulting phone calls [KAGE] made it clear that a nine foot unit was going to suit our needs best … and you were right. In the world today, it is nice to see that KAGE Innovation is holding on to the classic customer service that is so hard to find. You have a wonderful staff, a great product, service and the best price. You'll continue to be our first choice for any additional needs that we may have.
"Kage Innovation has revolutionized the way we plow snow. No more wasting time with the wrong implement or moving the same snow over and over again. These things really do save time and money. You can move snow more efficiently, which means more money in your pocket.
About me, My name is Jason and I have been in the commercial snow removal business for 15 years and have tried it all – from all types of manufacturers. The first time I put my eyes on a Kage I was very intrigued by the idea and disappointed that I hadn't thought of this years ago. I knew that I had to have one. I received my shipment of snowfire systems last week and after opening the first one I found that they come 100% assembled including hydraulic hoses and flat face couplers. I then looked it over from top to bottom to find a flaw or weakness in the design, There were none!!!! Now I would like to share them with everyone."
"We love the two-in-one capability of Kage, being able to angle plow and push with the same piece of equipment. Kage is the only unit we know of that can angle while it is pushing. You can move snow in an exact and precise way not possible with a fixed pusher. A skid-steer loader with a Kage is more productive than a pick-up truck. With a pick-up you lose too much snow and you have to go back to clean it up. Also, the skid steer is much more maneuverable. At first we were leery because Kage costs more than a regular pusher, but now we don't even think about it. We plan to buy more Kages this fall; this time we will purchase the poly cutting edge option for the parking ramps we do."
"My division currently has over 30 Kages, and is perfect for our condominium association work. The Kage is more than just a pusher; it is very versatile. When used in the right application, Kage is very productive."
"We now own 6 Kage systems. When the guys come in to plow they fight over who gets to use them. This never happened with the straight plows or the v-plows we used to use. Thanks to Kage we are faster and more efficient than ever
"The Kage is the best snow purchase we have ever made. It is especially great on HOA's – plow about 5 driveways with just the blade and then grab the box – cuts times by at least 30%. Our oldest Kage has three seasons on it and there have been no breakdowns."
"The products are very durable. [KAGE] products can definitely handle all of the abuse they get from inexperienced operators and rougher surfaces. You definitely get what you pay for here!"