Liquid Sprayer for Skid Steers, Compact Tractors, and Utility Vehicles
In the snow and landscaping industry, liquid application is becoming more widespread. Liquid sprayers are more versatile, target focused, and easier to operate. Not to mention how much less damage it has on its surroundings. Due to its many benefits, municipalities are moving away from dry applications to adopt liquid sprayers. They have become all the RAGE! Liquid sprayers are commonly used for pre and post-treatment after a snowfall. However, they also have a firm place in the lawn care industry to control weeds and other applications. KAGE's LiquidRage is a versatile boomless liquid sprayer with various functions designed for compact utility vehicles.
Our liquid sprayer has a patent-protected skid steer attachment plate with a built-in 3-point hitch. This allows you to switch between vehicles without a separate adaptor seamlessly. The LiquidRage also comfortably fits into the back of most UTVs. We provide you with various options without having to buy a separate attachment. Our liquid sprayer has adjustable, quick connect, anti-corrosion nozzles to best suit your needs within seconds. KAGE's LiquidRage has multiple accessory options to maximize the product's and your department's efficiency.
Liquid Sprayer for Snow and Lawn Care

The LiquidRage
The LiquidRage is the most versatile boomless liquid sprayer on the market. KAGE has a patent protected attachment plate so that, you don't need any adaptors when switching between vehicles. Equipping the LiquidRage with various attachments for the winter and summer months, this liquid sprayer does it all! The various ways that KAGE has equipped the LiquidRage and the attachments available are there to make your job easier!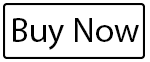 The Nozzles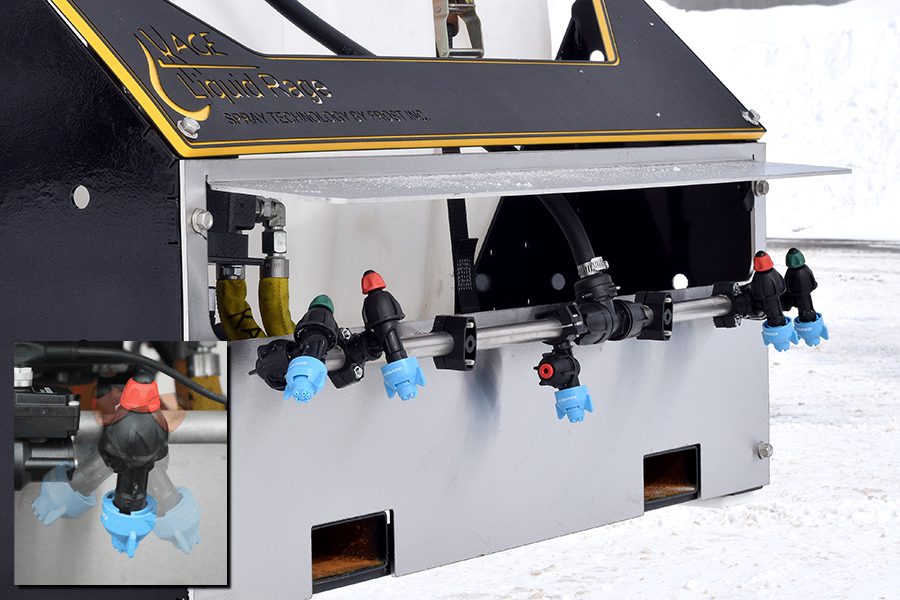 The LiquidRage boomless sprayer is equipped with easily adjustable nozzles to fit your needs best. To prevent accidental dripping or drainage, KAGE has check valves on each nozzle. The tips are quick-connect style with anti-corrosion and properties that prevent build-up. KAGE desires that you do not have downtime due to our product; the nozzles we chose are just one way we do that!
Skid Steer, 3-Point Attachment Plate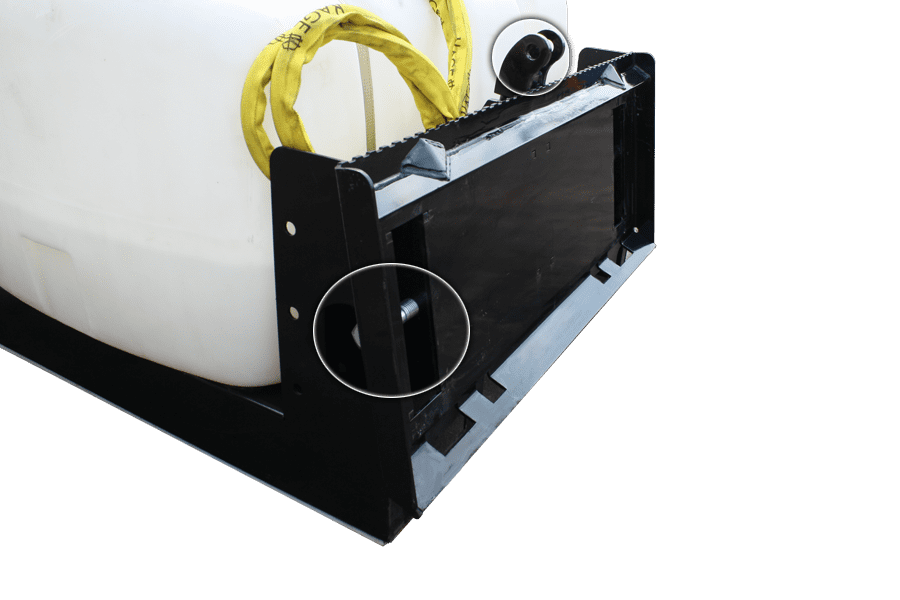 This patent-protected design allows you to switch between a skid steer and a tractor seamlessly. You do not have to buy any adaptors. Latch on and go! KAGE has also designed this liquid sprayer to comfortably fit into the back of most UTVs. The LiquidRage also has built-in fork pockets for your convenience.
Protectant Flange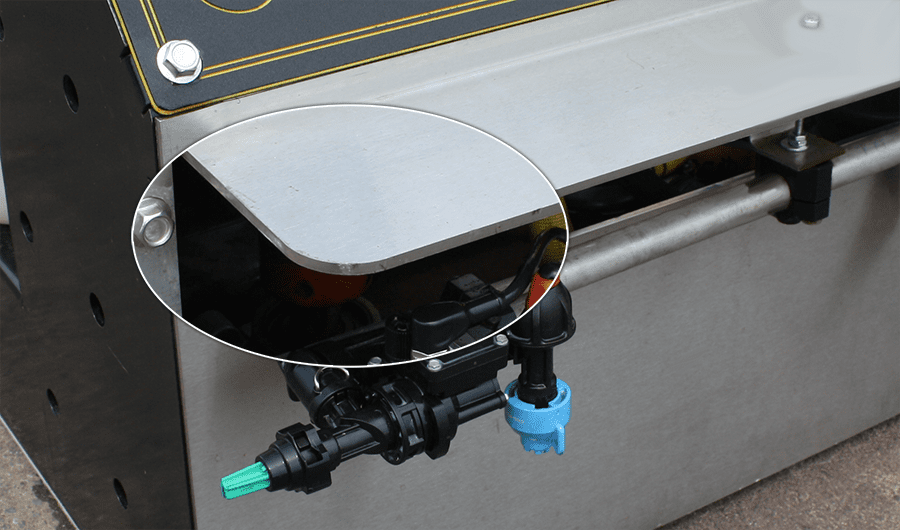 The KAGE liquid sprayer is equipped with an extended protectant flange. This keeps your sprayer bar and nozzles safe from accidental damage.
The Tank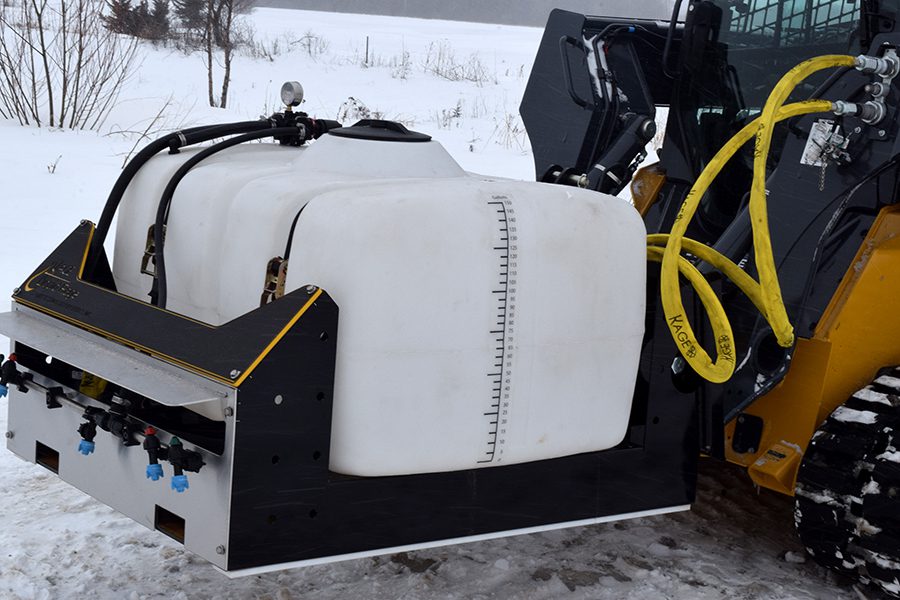 To ensure that you, as an operator, can complete the job, KAGE designed the LiquidRage with a 150-gallon tank. The 150 gallon capacity is the largest on the market for UTV sprayers and wheel loader sprayers. We understand that you do not want to fill the tank more times than you need to, so we "overbuilt it" by giving it extra capacity. KAGE intends to ensure that we fit your potential needs.
Note: Some UTVs and Wheel Loaders are not capable of carrying the weight a full 150-gallon tank. In which case, only fill the tanks to fall within the capabilities your machine can handle.
Pressure Regulator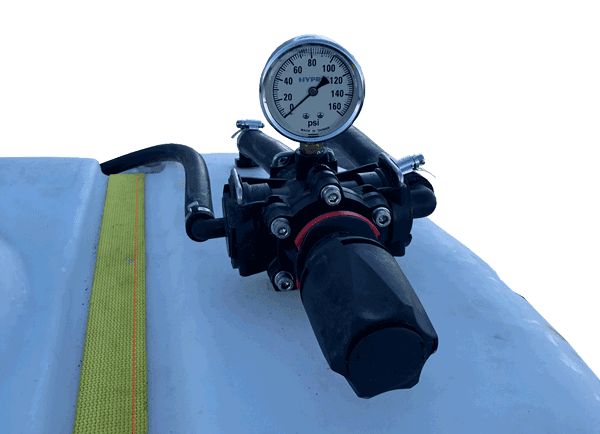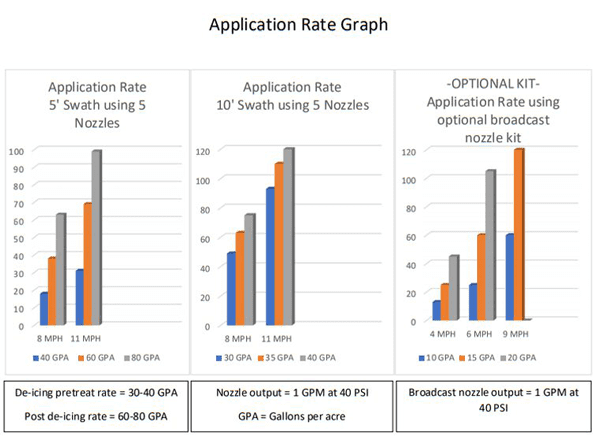 The KAGE liquid sprayer has a built-in pressure regulator with an easily adjustable knob. It also has an application rate graph on the tank to assist new operators.
Stainless Steel Plate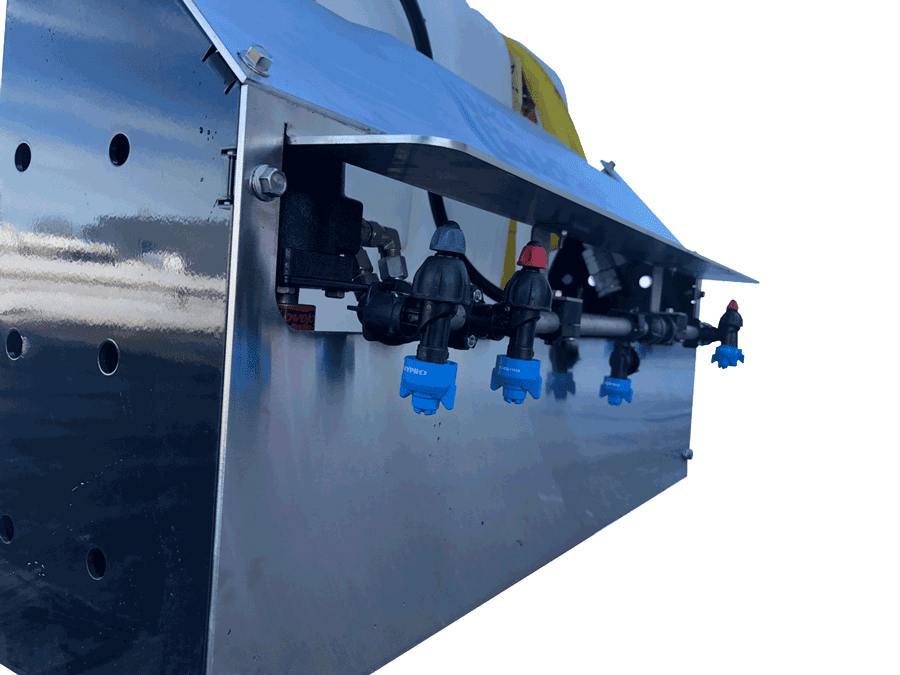 KAGE desires your equipment to last long, so we made the front plate out of stainless steel. Stainless steel resists rust and corrosion. Therefore, this simple plate reduces downtime and repairs.
Pump Motor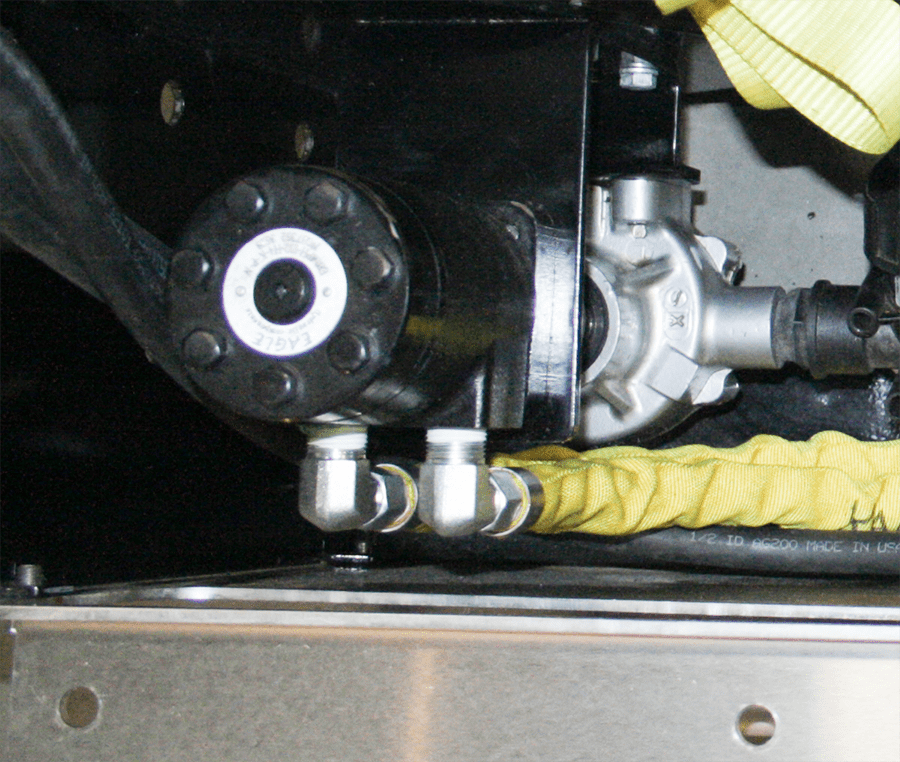 The LiquidRage has a built-in motor to pump the liquid to the sprayer bar. KAGE's pump motor design has a filter to keep unwanted substances from getting to the motor and damaging it. This motor also comes in handy when other attachments have been installed, such as the KAGE Brine Mixer.
Drain Valve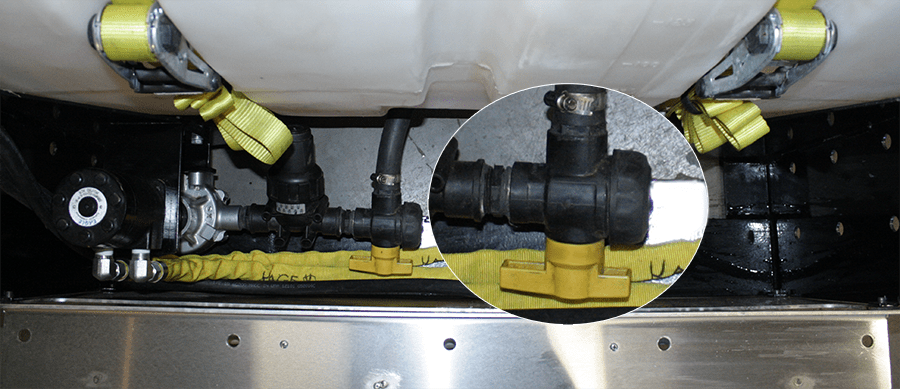 To make it easy to empty your tank, we added a drain valve to the bottom of the LiquidRage. This diverts the liquid from going to the motor instead of going outside the tank.
The Winter (Standard) Kit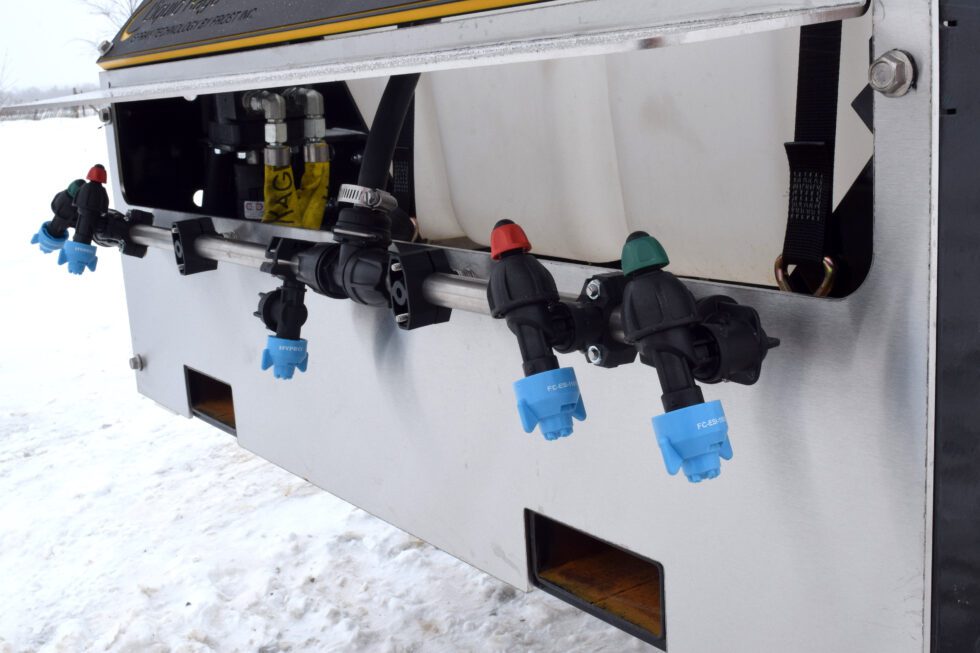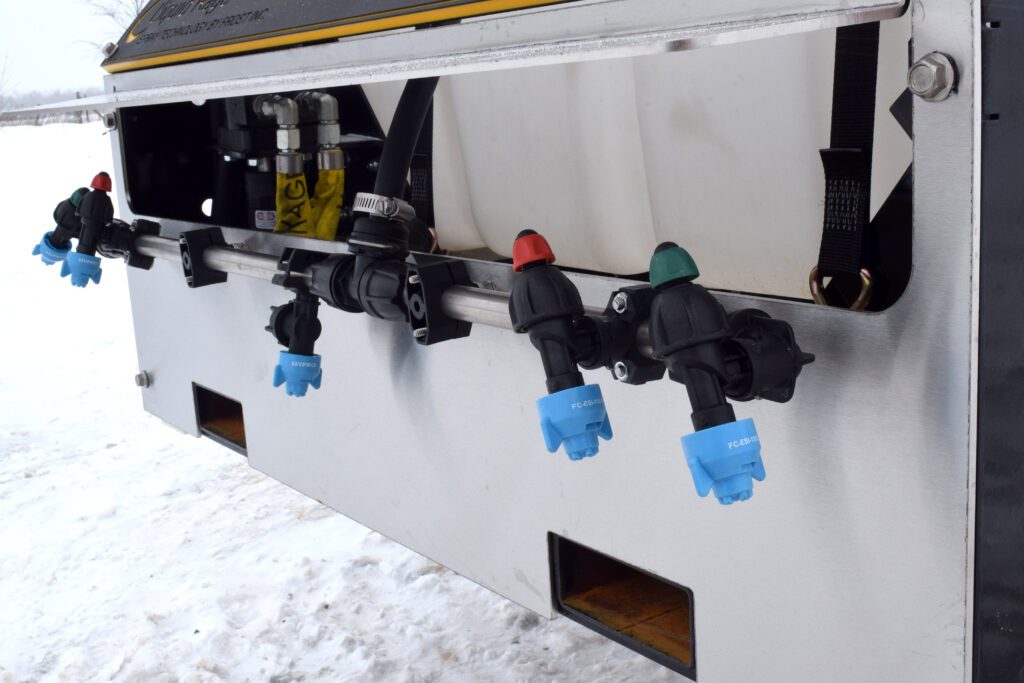 The KAGE winter kit comes standard on the LiquidRage. It has everything you need to brave the winter weather with liquid RAGE. Built specifically for brine and salt applications, but not restricted to. KAGE's winter kit has everything you need for your winter battles.
---
The Summer (Broadcast) Kit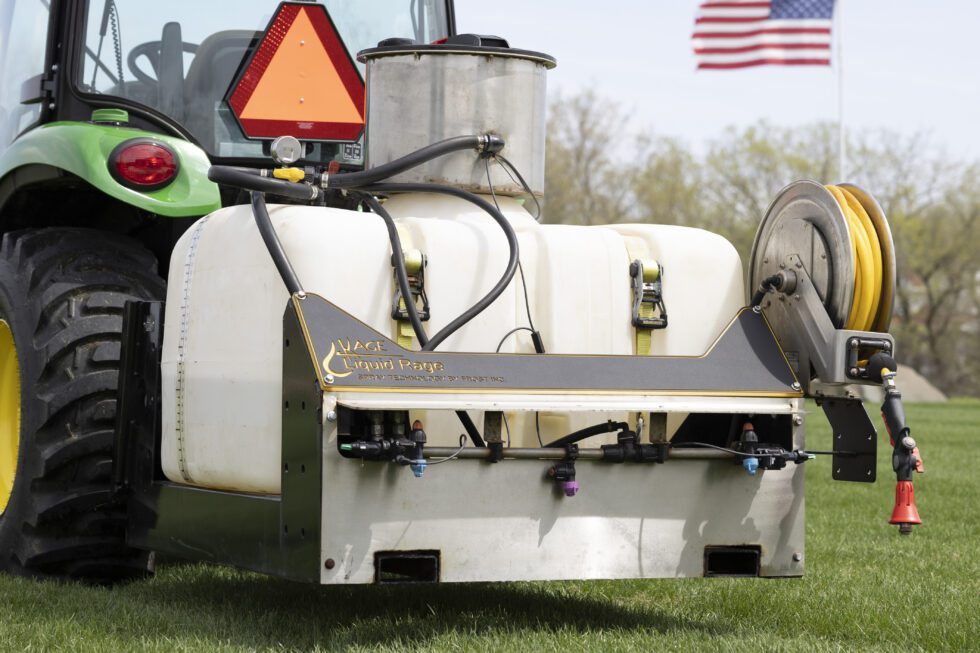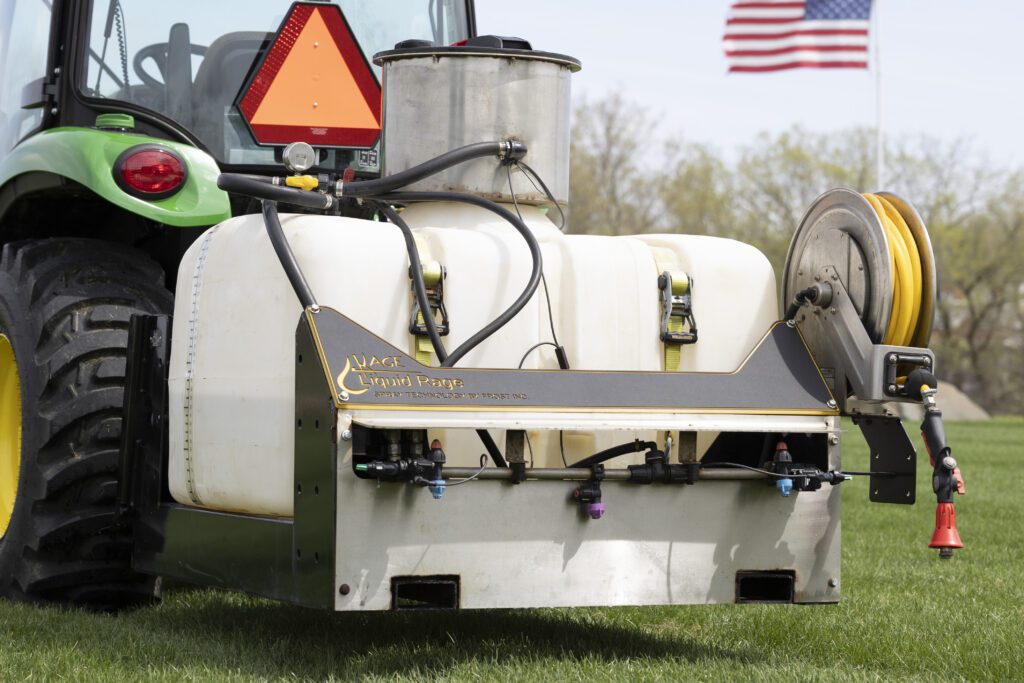 A LiquidRage summer kit is an additional option for KAGE's liquid sprayer. It has solenoid valves on and broadcast nozzles on both ends. It also comes with a spray nozzle to replace the center tip on the LiquidRage. The summer kit has a unique feature that allows you to turn on one or both sides of the liquid sprayer. We do this with an easily installed wiring harness with a switch that is equipped with a clamp. This allows you to place the switch where it is most convenient.
---
The Hose Reel Kit

The hose reel kit is an additional attachment that allows you to be more target focused. The nozzle has adjustments that will enable you to switch between a mist and a stream. It is also equipped with an ergonomic mount that allows you to mount the hose reel inside or outside the frame. That way, the hose reel can be protected and out of the way. The hose reel kit covers your needs. Whether you desire it to be out of the way, or it does not matter for your application, the LiquidRage hose reel is designed to best suit your needs.
---
The Brine Mixer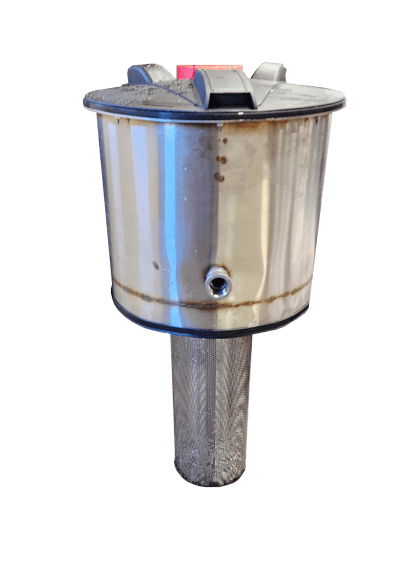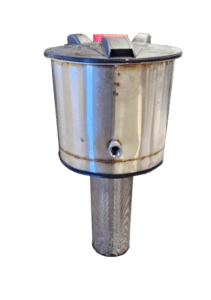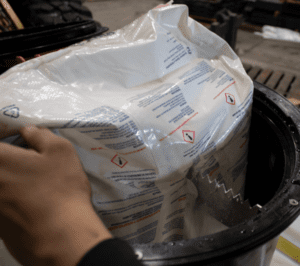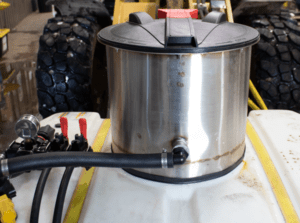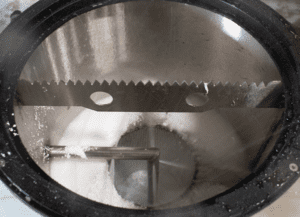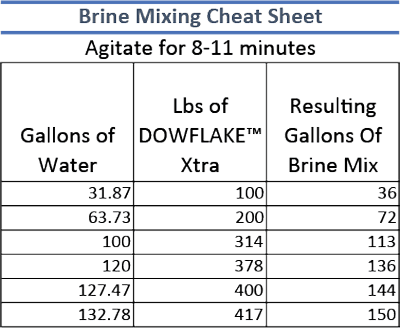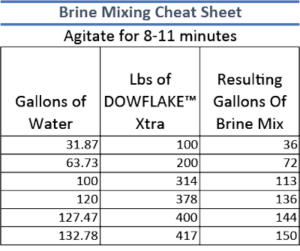 KAGE's new attachment, the brine mixer, allows the operator to mix a bag of brine within seconds. All the operator has to do is turn the valve and dump the bag. You don't even need a knife! The brine mixer has a serrated flange that breaks the bag for you. This attachment brings the pump's water from inside the tank to disperse from the tube inside the brine mixer. This makes for fast mixing at the flip of a switch. Using the sheet above will get you the perfect salinity.
Swath Dimensions for the Winter (Standard) Kit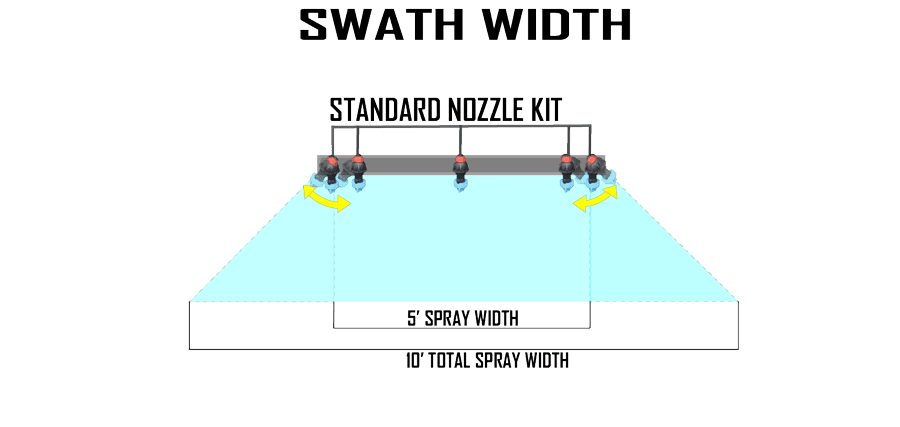 Swath Dimensions for the Summer (Broadcast) Kit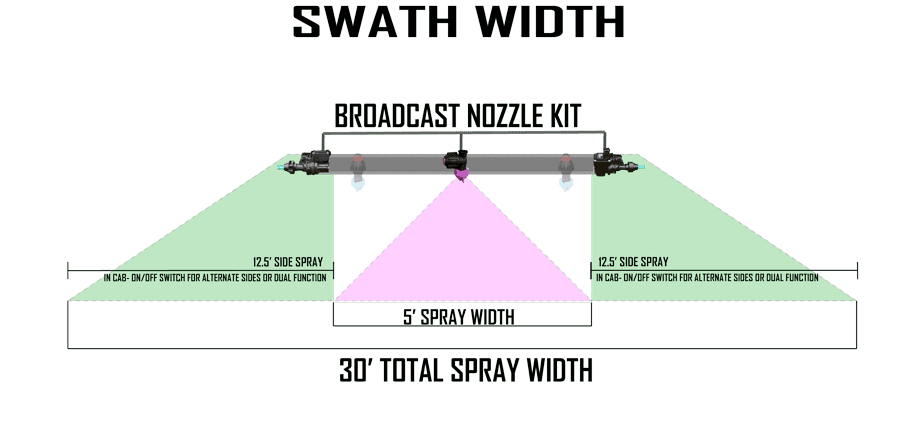 Specifications
 

| LiquidRage | SA150 |
| --- | --- |
| Mounts | Skid Steer/CAT II 3 Poin |
| Pump | Hydraulic |
| Internal Debris Filter | Standard |
| Dump Valve | Standard |
| Quick Connect Hydraulic Couplers | Skid Steer Flat Faced Standard |
| Nozzle Type | (5) 6 Stream Penetrating Nozzles |
| Tank Capacity | 150 Gallons |
| Pressure Regulator with Gauge | Standard |
| Spray Width | Spray Width |
| Spray Width (Broadcast) | 5′, 12.5′, 17.5, 30′ |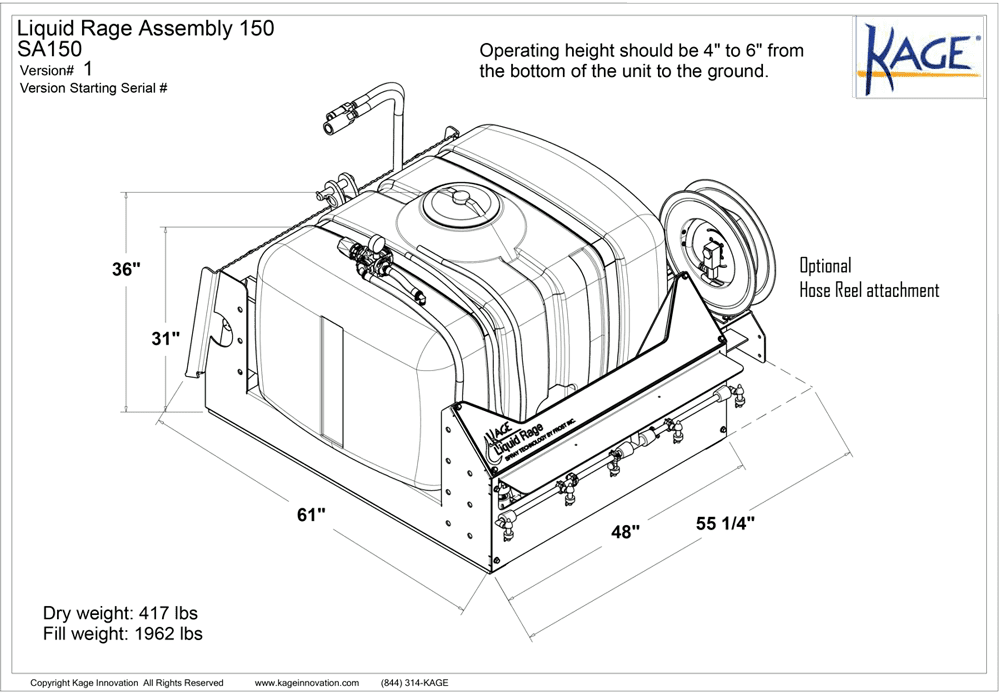 Here, we'll take a look at the most commonly asked questions about liquid weed control, dust suppression and anti-icing bring sprayers. At KAGE Innovation, we have a solid knowledge base resource of information available to answer these questions, solve problems and address pain points in the landscape and snow & ice removal industries around the topic of liquid sprayers – including the LiquidRage. Click on the question below to read a blog about that topic.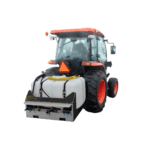 Comparing Brine Sprayers and Anti Icing Liquids
In this article you'll learn about the different equipment brine sprayers can be mounted to as well as the capacities of the sprayers, different application tips and methods and the four most popular forms of anti ice liquids to prevent the formation of ice on highways, streets, sidewalks, steps and parking lots. This includes sprayers for trucks, trailers, tractors, skid steers, UTVs and Front end loaders, which of these has the options for the largest capacity sprayers and which have the lowest capacity. You'll also see how KAGE Liquid Rage brine sprayer fits into the mix as a multipurpose anti icing liquid sprayer for tractors, skid steers and more.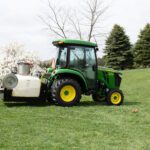 What is the fastest way to spray a large yard with a weed sprayer?
Choosing the right equipment and using it properly is critical to efficient use of time when spraying large yards for weeds. Here we break down they types of sprayers including how wide they spray, how fast they can travel, at what rate they can dispense liquids, how long they can spray, how much area can be covered with a full tank, and what equipment is needed to dispense the weed killer.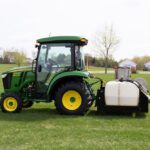 When should I use a broadleaf sprayer on my lawn?
Timing is everything. That applies to application of broadleaf weed killer as well. This blog identifies the ideal conditions for spraying broadleaves including the growth stages of the weeds, ideal weather conditions, types of grass to preserve, types of broadleaves to be treated, identifying the right herbicide and more.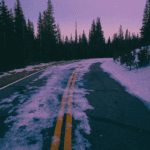 The Finesse of De-icing Spray Technology
Learn how de-icing spray works as well as the benefits and challenges of using different types of chemical and saline de-icing liquids everywhere from streets, roads and highways to parking lots and sidewalks.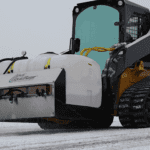 Top 3 Benefits of Liquid Snow and Ice Solutions
Discover why and how liquid snow and ice control solutions offer better coverage, a lower financial cost and lower environmental cost in comparison to dry road salts. This includes how long these methods take to work and the effect on surfaces beyond the road and sidewalk.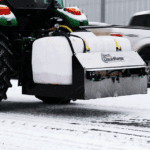 Liquid Salt Sprayer Maximizes Productivity
Anti ice pretreatment can help you get more out of your workday by eliminating the time spent fighting through ice buildup. Learn how it works and why customers will rave about its use.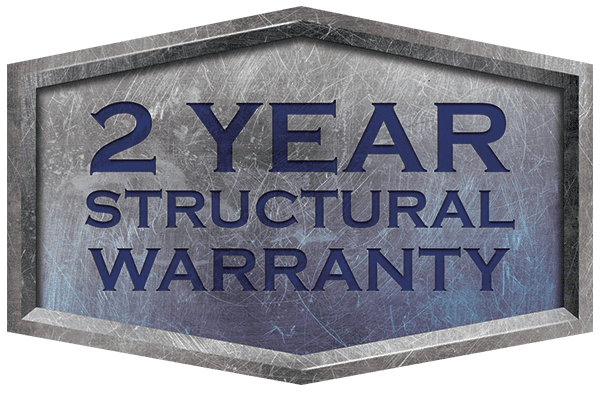 Money Back Guarantee