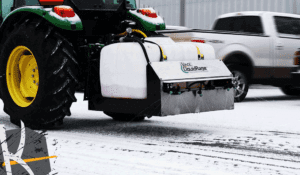 Using a Liquid Salt Sprayer maximizes productivity while keeping customers happy by creating a barrier between the substrate and the snow/ice.  This reduces the amount of wasted rock salt that that can be tracked inside buildings.  The KAGE Liquid Rage keeps you going longer between liquid salt fill ups, and has more built in component protection than other Liquid Salt Sprayers.
Why use Liquid Anti-Ice to Pre-Treat?
If you've ever cooked an egg, you know that prepping the cooking surface with oil is essential to make sure the egg does not stick to the pan.  Much like an egg cooking on the stove, snow and water will fill all of the small pores in the substrate and make it nearly impossible to completely clear the surface.  By utilizing a liquid salt sprayer to apply brine as a pre treatment, you will be able to dominate the hard pack and leave behind a clean substrate.  The reason this works so well is because liquid salt creates a "barrier" between the snow and the substrate easily.  This allows your cutting edges to penetrate to the substrate faster and move snow without hard scraping.  This produces less damage to the ground and your equipment.  It also saves time by not needing to break through hard pack.
LiquidRage Sprayer Advantages
The KAGE LiquidRage brine sprayer will help you dominate hardpack faster than many other liquid salt sprayers.  Our experience has been that to maximize productivity, you need fewer stops and a wider coverage area. Our industry leading 150 gallon tank size keeps your operators productive.  KAGE wide angle nozzles can spray 10 feet wide without extended booms which reduces excess passes. To keep your investment lasting longer, KAGE has added a stainless steel face.  This protects the nozzles from impact and guards the pump and hydraulic fittings from corrosive liquid salt.  Another great advantage to the Liquid Rage is the KAGE Exclusive mounting plate that allows you to connect to a skid steer quick attach or a tractor 3 point in seconds.
Why will your customers like liquid?
With many commercial and retail facilities initiating "no-track" policies, liquid salt sprayers allow you to pre-treat and use less rock salt.  Rock salt can be tracked into buildings causing damage to drywall, paint and steel structures.  The damage that rock salt can cause is a nuisance and creates an unappealing look for customers entering the building.  Liquid solves this problem by creating the barrier so you can clear the snow down to the substrate easily. Our goal is to make your job easier and faster so you can maximize profit!
For more information about Liquid Rage, visit https://kageinnovation.com/liquid-anti-ice-spray-equipment/
To learn more about the benefits of Liquid Salt: https://www.snowmagazineonline.com/article/10-things-to-know-about-liquid-deicers/
https://www.youtube.com/watch?v=QY7i2Nx0MNI&t=3s