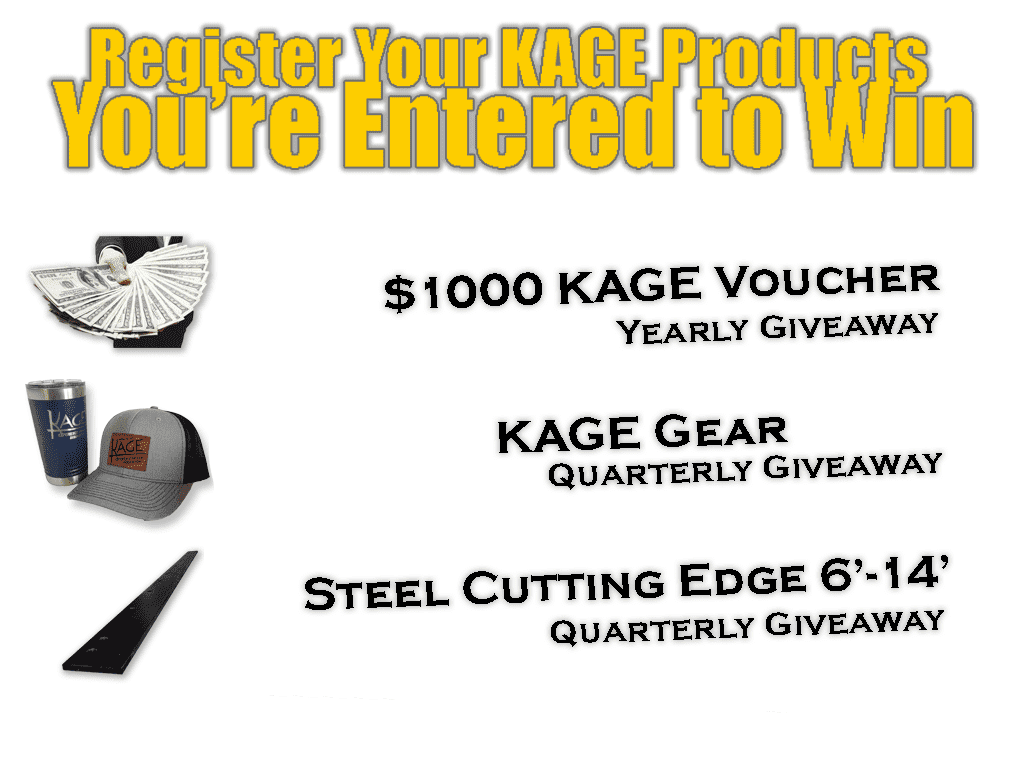 Giveaway Information – Register your KAGE products today and you'll be submitted for a chance to win one of our great prizes!
One giveaway submission per item registered. Registration must be fully completed with purchase dates, name. contact information, e-mail, and serial numbers. Incomplete registrations will not be honored. Dealer registrations will not be honored; all registrations must be submitted in owner's name.
Drawings are held every quarter and an additional once per year.
Prizes may look different than pictured. Cutting edge prize will be issued as sized with product registered. $1000 KAGE voucher valid at kageinnovation.com or by contacting KAGE customer service.
No general e-mail addresses will be entered into drawing i.e., info@ or contacts@, a direct email must be given for entry to be valid. Example of valid email would be, "greg@kageinnovation.com".
PROTECT YOUR INVESTMENT. Fill out the form below to register your KAGE product warranty.
KAGE Innovation will repair or, at the option of KAGE Innovation, replace those parts which prove defective due to material or workmanship under normal use for a period of two (2) years from the date of retail sale or date of invoice from KAGE Innovation – whichever is later. Expendable items, such as rubber or polyurethane are excluded from this warranty.
KAGE Warranty Registration
LIMITATIONS OF WARRANTY AND DAMAGES
KAGE INNOVATION MAKES NO OTHER WARRANTY, EXPRESSED OR IMPLIED, AND MAKES NO WARRANTY OF MERCHANTABILITY OR OF FITNESS FOR ANY PARTICULAR PURPOSE. THERE ARE NO WARRANTIES WHICH EXTEND BEYOND THE FACE HEREOF.
IN NO EVENT SHALL KAGE INNOVATION, BE HELD LIABLE FOR SPECIAL, INCIDENTAL OR CONSEQUENTIAL DAMAGES OR FOR DAMAGES RESULTING FROM MISAPPLICATION, ABUSE, MISUSE, ACTS OF GOD, UNAUTHORIZED ALTERATION OF THE KAGE INNOVATION PRODUCT, OR SUBSTITUTION OF PARTS NOT AUTHORIZED IN WRITING BY KAGE INNOVATION.
KAGE Innovation warrants that the products manufactured by us to be in accordance with our published specifications or those specifications agreed to by us in writing at the time of sale. The obligation of KAGE Innovation is expressly limited to repairing or replacing, at its option, any product not meeting such specifications within the warranty period.
To obtain service under this warranty the consumer must return the defective KAGE Innovation product to KAGE Innovation directly, the dealer from which the product was purchased or to any authorized KAGE Innovation dealer, transportation and freight charges prepaid. Only KAGE Innovation dealers are authorized to perform the obligations under this warranty with pre-authorization from KAGE Innovation.
No person is authorized to alter or amend this warranty or to create any warranty other than that set forth herein without the expressed written consent of KAGE Innovation.
KAGE Innovation reserves the right to make improvement changes on any of our products without prior notice.