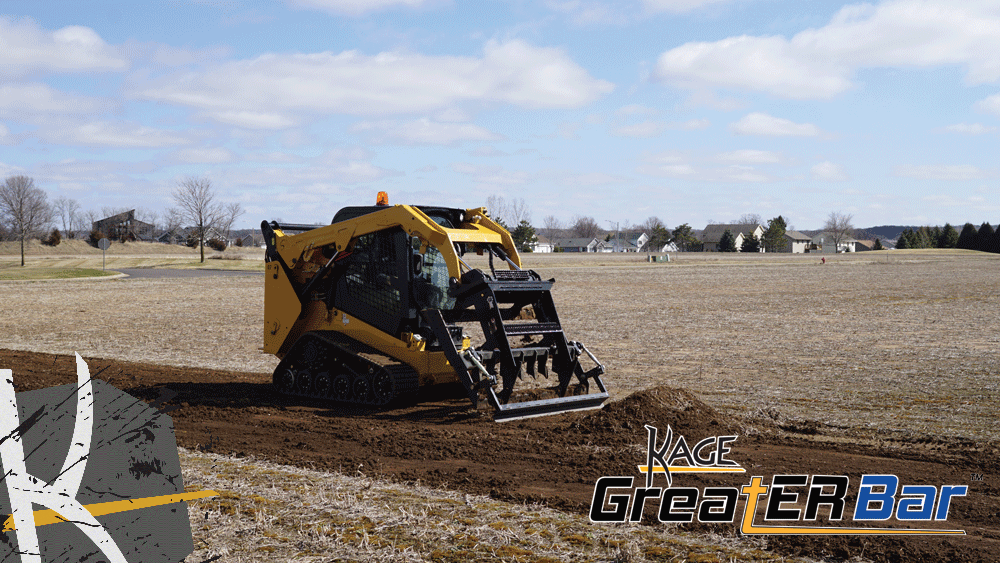 Skid Steer Attachments such as buckets and Skid Steer Graders a.k.a. land planes are commonly used to loosen, remove and replace ground.  This makes the surface more suitable for drainage, sports, landscape features, and turfgrass preparation.  The ALL NEW KAGE GreatER Bar makes it easier than ever to grade by using a patent pending Mechanical Quick Rip Bar. This means no hydraulics or manually lowering ripper teeth.
What is the current problem to overcome with Skid Steer Graders?
Attachments such as buckets and grading bars a.k.a land planes are commonly used to loosen, remove and replace ground. This makes the ground suitable for drainage, sports, landscape features, and turf grass preparation. This process is referred to as grading.  A grading bar or land plane is typically the fastest and easiest way to cut high spots down and fill small depressions. The operator can simply lower the land plane to engage the cutting edges with the high spots. Then the grading bar automatically relocates those to the next low spot in the travel path. This works very well for small peaks and valleys that are close in proximity to each other. Whereas a bucket can cut a peak down and relocate the soil to a more remote location by scooping the soil in the bucket.
Why use a Land Plane with Rippers, Teeth, Scarifiers over a Skid Steer Bucket?
Land Planes utilize cutting edges to loosen hard packed ground in ways that buckets simply can't. Buckets can cut and spread, but land planes will use a cutting edge to "cut" into the top layer of ground.  This loosens hard pack evenly and spreads the aggregate to create a smoother, softer ground.  Many variations of land planes are on the market for Skid Steers, but many fail to do the job they should have been designed to do.  The KAGE GreatER Bar utilizes replaceable cutting edges, heavy steel components, and is overbuilt by design to handle the toughest jobs.
Ripper / Scarifier Teeth are another important feature to have at your fingertips when grading.  The standard land plane has many limitations.  If you need to fix potholes, waterboard, or free up more hardpack, Ripper Teeth are the only way to go.  Rippers dig below the issue ground such as a pothole to free up hard pack that would cause the pothole to re-appear if not dealt with properly.
What features make the KAGE GreatER™ Bar different?
The KAGE GreatER bar like other KAGE products is "Overbuilt by Design" to give Skid Steer operators confidence that they can take on the toughest jobs.  Some of the features that differentiate and make the GreatER bar great are…
Mechanical Quick Rip Bar… Quick and Easy mechanical engagement that eliminates problems with hydraulics and time associated with manual scarifier teeth.
Bucket Klaw… Klaws specially designed to hold your bucket while going from job to job. You no longer need to travel long distances to carry 2 required Skid Steer Attachments.
Replaceable Cutting Edges… Bolt on cutting edges save on maintenance time
HARDOX™ Latching Mechanism… Mechanical parts are made from HARDOX steel that has up to 4 times longer life and harder properties than standard carbon steel.
Heavy Duty Corner Gussets… Gussets are added to give you the confidence that you have a tough product that can handle the toughest terrain.
½" Attachment Plate Top Bar with Gussets… Our overbuilt by design philosophy starts where at the attachment plate. Our plate is built to handle the abuse that goes beyond the day to day operators face to keep you going when the ground gets tough.
Spring Loaded Ripper Bar… When back dragging, the ripper bar on the GreatER Bar automatically retracts to give you a smooth finish, then engages itself to dig when moving forward.
Large Safety Step… Safety is a #1 priority. Operators now have large steps to easily and safely enter and exit their Skid Steer.
https://www.youtube.com/watch?v=Z81Op-tW-oY
https://www.bigplows.com/greater-bar-gb.html